BOTOX and Filler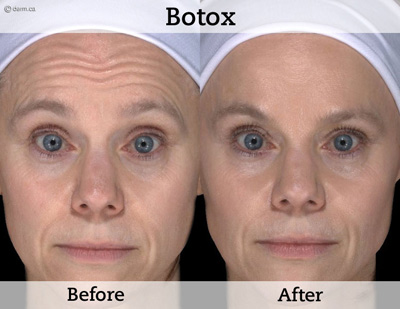 Diminish the appearance of wrinkles using BOTOX® Cosmetic. This exciting and popular treatment works by reducing the excessive contractions of muscles that cause those persistent frown lines that have developed over time.
BOTOX® Cosmetic Treatments
This is a safe and highly effective procedure with a 97% satisfaction rate according to a recent survey. BOTOX® Cosmetic treatments are quick, and have no "downtime" and have only minimal discomfort.
For deep persistent, wrinkles and furrows, particularly of the lower face, hyaluronic acid ("HA") compounds "filler" substances are used to restore age-related volume loss. Juvederm Ultra, Juvederm Ultra Plus, Voluma, Volbella, Restylane and Perlane are all used at Derm.ca. The filler type depends on the area being treated.
HA is a normally substance in skin which imparts a soft contour. which have been formally approved for correction of moderate to severe facial wrinkles and folds. The treatment benefits may last as long as one year. These compounds complement the benefits of BOTOX® Cosmetic treatments. HA treatments are safe and are highly effective. The benefits are obvious immediately after injection.